The Department's strategic plan sets out our objectives and describes how the objectives can be achieved.  The strategic plan provides a rational basis upon which priorities are determined and is regularly updated to ensure that resources are well targeted and used effectively having regard to the changing needs of society.
The Department's strategic plan can be viewed at the Department's website.
To facilitate improvements in the monitoring of assigned out cases and to provide guidance to lawyers handling legal aid work, we have reviewed and revised the Manual for Legal Aid Practitioners.  Changes to the Manual included matters such as assigned lawyers' duty to report to the Director professional disciplinary proceedings and/or criminal charges, clarification of the authority for review of taxation by counsel, guidance notes for assigned solicitors providing section 9 opinions and the procedure for obtaining the Director's approval for re-assignment of cases when an assigned solicitor changes firm. 
The Case Management System was further enhanced, for example, to provide ready information on the status of legal aid appeals, to track referral of cases for recovery of outstanding contributions, to refine the system for bring-up of files and the creation of new statistical reports to facilitate management reviews. 
To maintain the integrity of the system of assignment being based on the experience of lawyers in the past 3 years, the Department conducted an updating exercise of the Legal Aid Panel for practitioners to provide the Department with the latest information concerning panel lawyers' personal particulars as well as their experience and expertise. 
The Department's effort to look for ways to enhance the efficiency of the operation of the Department through the use of advanced information technology was given a timely boost with the launch of the Legal Aid Electronic Services Portal (LAESP) at the end of December 2008.
Rapid changes in information technology demand that computer equipment be upgraded and replaced regularly.  Smooth day-to-day operation of the Department was assured when a program to replace all the desktop and notebook computers installed in 2001 got underway in mid-2008. 
The Department accords high priority to enhancing customer services on an on-going basis.
The launch of the Legal Aid Electronic Services Portal makes available to the public a means test calculator.  By using the calculator, members of the public will get some idea on whether they would be eligible for legal aid on means if they apply for legal aid. 
Information leaflets on legal aid services were published in Nepali, Indonesian, Thai, Hindi, Urdu, Bengali and Tagalog to cater for the needs of Hong Kong's multi-racial society.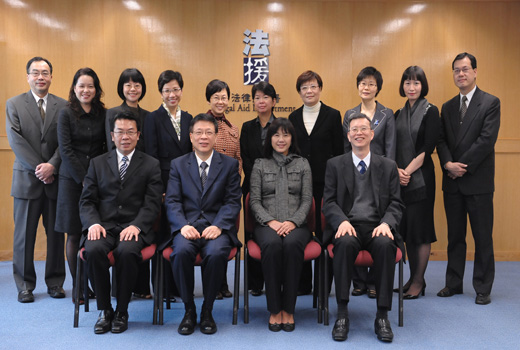 | | |
| --- | --- |
| (Rear row from left) | Mr Allan Chan Wing-cho, Ms Doris Lui Wai-lan, Mrs Christina Hadiwibawa Cheung Ying-man, Ms Alice Chung Yee-ling, Miss Linda Ng Wing-ping, Mrs Annie Williams Ka-ding, Miss Betty Chan King-wah, Ms Mo Yuk-wah, Ms Juliana Chan Oi-yung, Mr Chris Chong Yan-tung |
| (Front row from left) | Mr Thomas Edward Kwong, Mr Benjamin Cheung King-man, Ms Jennie Hui Lai-yung, Mr William Chan Heung-ping |
The Department continued to promote public awareness and understanding of legal aid services in 2008.  This included updating the videos shown in LAD offices, designing and displaying poster to warn the public about recovery agents and giving talks on legal aid services to community groups and visitors. 
The Department's Interactive Voice Response System, which offers an alternative source of accessing information about legal aid services, was updated to provide members of the public with information on the facilities provided by LAESP.
February 20
Acting Assistant Principal Legal Aid Counsel/Legal and Management Support, Mr Steve Wong, delivered a talk on the legal aid services in Hong Kong to the staff and students of the School of Business and Information Systems at the school's lecture theatre.
A wide range of courses was arranged in 2008 to meet the training needs of staff at all levels. 
Training courses included a customised management workshop for Legal Aid Counsel grade officers, in-house job related talks, video seminars on teamwork, basic and refresher Putonghua courses for different grades of departmental staff, induction training for newly appointed Legal Aid Counsel and Law Clerks, training on the handling of hostile and difficult customers.  Following a Department-wide survey, a specially-designed training course on finalisation of account upon the conclusion of a legally aided case was organised by the Departmental Accountant and experienced staff from the Accounts Section for staff of the Department. 
March 11
Assistant Principal Legal Aid Counsel/Crime, Miss Betty Chan (left) and Senior Legal Aid Counsel, Ms Nancy Keung, was explaining the legal aid services in Hong Kong to a group of Mainland lawyers from the Committee for Children Protection of All China Lawyers Association.