Chapter 1 Departmental Strategic Plan
The Department's strategic plan sets out our objectives and describes how the objectives can be achieved. The strategic plan provides a rational basis on which priorities are determined and will be updated to ensure that resources are well targeted and used effectively, having regard to changing environment.
The Department's strategic plan can be viewed at the Department's website.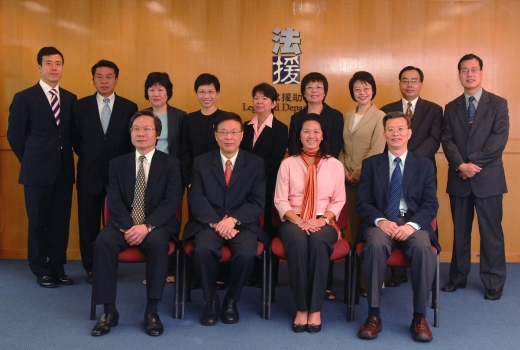 (Rear row from left) Mr Steve Wong Yiu-fai, Mr Thomas Edward Kwong, Miss Jenie Wong Sin-ying, Ms Alice Chung Yee-ling, Mrs Annie Williams Ka-ding, Miss Betty Chan King-wah, Mrs Christiina Hadawibawa Cheung Ying-man, Mr Allan Chan Wing-cho, Mr Chris Chong Yan-tung
(Front row from left) Mr Harry Mak Fai-man, Mr Benjamin Cheung King-man, Ms Jennie Hui Lai-yung, Mr William Chan Heung-ping
Implementation of Strategic Plan in 2006
Processing of Legal Aid Applications
The Application and Processing Division has completed the study on business process
re-engineering in 2005. Workshops were conducted to work out the implementation details mainly relating to matters on calculation of financial resources of applicants as a result of legislative amendments. The application forms were revised and improved. The new measures have streamlined our operations and reduced duplication of work processes so that better services are provided to our clients.
Assignment and Monitoring of Assigned-Out Cases
The Department has continued to work with the Legal Aid Services Council's Interest Group on Assignment System and Monitoring of Assigned-out Cases to provide input to facilitate discussion and obtain feedback from legal aid practitioners on the Department's assignment system. At the Interest Group's recommendation, the assignment limit for civil legal aid cases within any 12-month period was reduced from 50 to 45 cases for solicitors and from 30 to 25 cases for barristers.
Following the release of The Ombudsman's Investigation Report on Monitoring of Assigned-out Cases, briefings were conducted for professional officers in the Application & Processing Division to remind them that monitoring is not a routine task but is a very important aspect of their duties for the protection of the public fund as well as serving and safeguarding the interest of the aided person. Trigger points were also introduced so that prompt action can be taken against assigned lawyers whose performances are unsatisfactory. The Department also accepted the suggestion by the Legal Aid Services Council to alert the senior partners of solicitor firms if an assigned solicitor repeatedly ignored our requests for progress reports.
16 January
Acting Assistant Principal Legal Counsel (Crime), Mr Nelson Kwok ,explained the legal aid system in Hong Kong to a group of interns of a law firm.
In-house Litigation
The Department made proposal to simplify procedures for financial dispute resolution in conducting matrimonial cases to the Judiciary's Steering Committee on Financial Dispute Resolution. It is likely that the new simplified procedure will be introduced in 2007.
Senior staff from the Insolvency Unit conducted briefing for officers from the Labour Department on the work and procedures of the unit to give them a better understanding of its operations to foster a closer working relationship between the two departments.

Customer Service
The supervisors and frontline staff meet regularly to consider initiatives on improving our service to the public. Initiatives originated from staff suggestions and implemented in 2006 included a design competition on the theme "If I were a legal aid applicant" to promote a culture of providing quality customer service, a series of workshops on the same theme to promote customer service skills; enhancement of the Department's Interactive Voice Response System by the installation of a new feature of queue positioning and uploading promotional videos with scripts of English, Putonghua and Cantonese onto the LAD website.
Information System
The Department's integrated information system has been further enhanced in 2006 to cope with changes and to strengthen control of our operations and work procedures. These included the introduction of new functions to calculate interest on first charge and interest and surcharge on arrears of maintenance, modification of the existing function to capture outstanding party & party costs and generate improved management reports for the monitoring of such outstanding costs, enhancement of the Case Accounting System to strengthen internal controls, etc. The Department plans to have in place a Departmental E-portal known as "Legal Aid Electronic Services Portal (LAESP)" that provides an e-option to enable prospective applicants to submit pre-application information to the Department and facilitate communication between panel lawyers and the Department. Preparation work for the implementation of LAESP began in late 2006. The Department also ran a pilot scheme on the use of electronic Document Management System for handling criminal legal aid cases.

Publicity
We received visitors from the Mainland and overseas to exchange views on legal aid, and to enhance their understanding of the legal aid schemes, lawyer's fees, legal aid regime and legal developments in Hong Kong. The operations of the supplementary legal aid scheme in Hong Kong was a topic of particular interest to a number of overseas visitors and delegations. Visits and talks were arranged during the year to non-governmental organisations to promote their understanding of legal aid services. Continued departmental support has also been given to the Law Week held by the Law Society in November 2006.
Staff
Continued training and development of staff is essential to the provision of quality legal aid services. The Department has therefore organised appropriate training to update and improve, for example, staff communication skills and management knowledge. Some major training activities held during the year included customer service training, law seminars, job-related programmes and a wide variety of courses on general subjects such as language, China studies and information technology. Staff activities and outings were also organised to promote harmonious staff relations.

With due regard to the exigencies of the service, the Department adopted the five-day week operations for some sections with effect from 1 July 2006. Service to the public was not affected and the scheme was implemented smoothly.
New Performance Indicators
New performance indicators and statistics are presented in this year's report in response to the Director of Audit's suggestion to explore new performance indicators and to disclose more statistics which are useful in enhancing public accountability of legal aid services.
7 February
Director of Legal Aid, Mr Benjamin Cheung(second from left), Deputy Director (Policy and Administration), Mr William Chan (first from left) and Acting Assistant Director (Policy and Development), Mr Thomas Kwong (third from left) received the immediate Former President of the Law Society, UK, Mr Edward Nally during his visit to the Department.